Committed to deliver involvement and exceptional quality
Everyone has a story. Here is ours.
The Red Orange Technologies journey began in 2011 when two friends, Amit Sharma and Prakash Kattoli got together and started delivering integration services, applications and webpages to clients. Both founders embarked on a mission to establish an organization with wider reach.

The foremost ingredients for the success of any enterprise are patience and perseverance, attributes that played an instrumental role in their ability to establish exceptionally high standards of workmanship. In due course, their dedication garnered significant appreciation
and acceptance from their clients.

Both visionary founders expressed a passionate desire to extend their operational footprint of Red Orange Technologies beyond the borders of India. Through their collaborative endeavours, they successfully established international offices. Furthermore, their collective
achievements gained recognition from industry peers, culminating in a prestigious ranking among the top 10 mobile app development companies in India, as acknowledged by IT index Magazine Silicon India.
At Red Orange Technologies, our mission is to relentlessly challenge the status quo and
pioneer innovative solutions that cater to the distinct demands of our multinational clients, making their satisfaction our paramount goal.
Our team is united by an unwavering passion for technology and an uncompromising commitment to delivering excellence.
We are dedicated to creating an optimal work environment that fosters enthusiasm,
nurtures creativity, and consistently generates impactful results.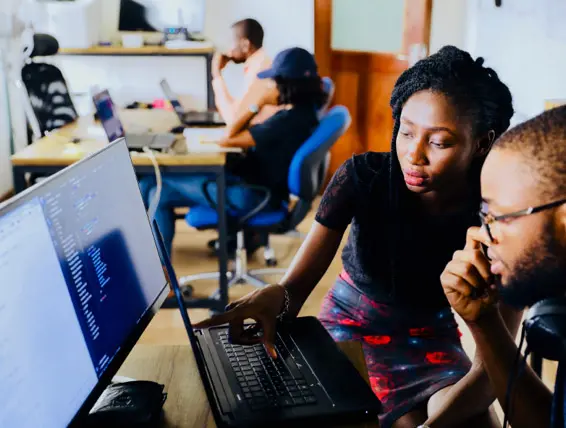 Igniting Digital Transformation
Fostering global partnerships and collaboration across continents to drive positive change through:
Innovation.
Adaptability.
High quality deliveries.
Social responsibility.
Shared perspectives.
Custom made solutions.
Meaningful impact on clients and employees.
Making bold decisions together.
We are dedicated to igniting digital transformation, pushing boundaries, and creating long term partnerships with our clients, making their success our success.
We are international
Operating across different countries and cultures, we are an international organization. Our influence knows no boundaries, bringing together people with various perspectives and
ideas. Together, we create a world full of endless opportunities.
When you choose us, you're tapping into our expertise and unwavering dedication. Our team is a blend of talented individuals who are innovative and focused on your success. We create solutions that help businesses expand and improve. Your specific needs are our top priority, and we build relationships based on trust and transparency.
We bring the latest technologies that adapt to changing situations, helping you overcome
challenges and achieve your goals. We're here to turn obstacles into opportunities, making sure your progress is marked by achievements. Partnering with us opens a world of possibilities, where your needs are nurtured by our insights and powered by our dedication solving IT projects.
We stand apart from our competitors through a multinational culture with strong local appearance anchored in our five distinctive attributes.
A team built on experience
We are in the process of enhancing our talent pool, assembling a dynamic team equipped with top-notch service and technical skills. Our team is growing fast.
While we understand the significance of work, we also value the essence of play! We hold all our partnerships in high regard and strive to address crucial issues in enjoyable and innovative ways, leaving a smile on your face.
Our passion for both our work and assisting clients is boundless. After all, life's brevity reminds us to savor every moment